Tuition for the 2023/24 school year is $21,425.
Tuition includes all school materials, textbooks, a laptop for in-school use, certain uniform items, some meals, and all domestic field lessons, overnight trips, and the Costa Rica International Field Experience.*
*All students travel to Costa Rica in the spring of 6th, 7th, and 8th grades, and the cost of this trip is included in the tuition. However, if trip airfares exceed $600, parents will be invoiced for the excess amount, not to exceed $500. For example, if airfare is $450, there will be no invoices sent. If airfare is $795, families will be invoiced the $195 overage amount.
Tuition may be paid in one of three ways:
Full payment on July 1

50% payment on July 1, 50% payment on December 1 (with added bookkeeping fee)

Ten monthly payments beginning July 1 and ending April 1 (with added bookkeeping fee)
All tuition payment plans include a non-refundable $1,000 enrollment deposit, paid upon registration to secure the space. This deposit is credited towards the full tuition balance.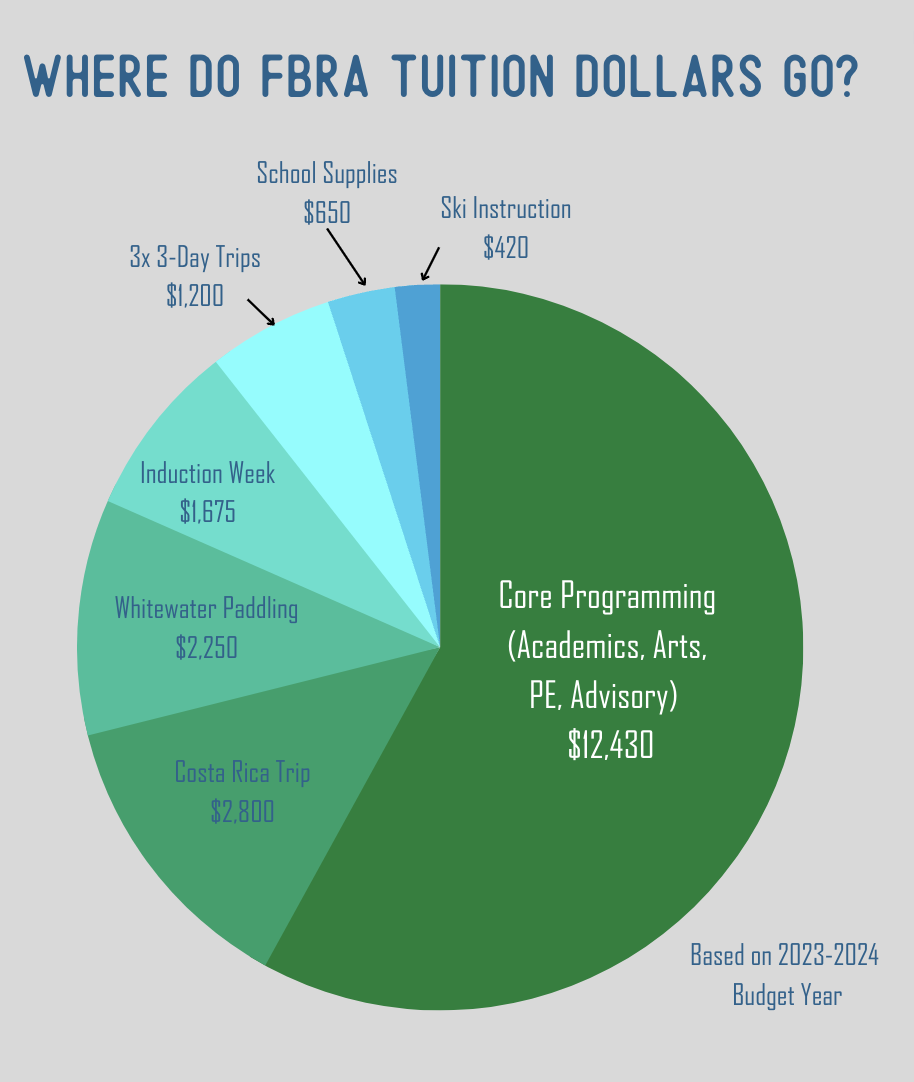 FBRA offers financial aid to qualified students on the basis of the financial need of the family and the availability of funds. The Financial Aid Committee considers all household resources as well as household resources from divorced or separated parents or guardians. In shared-custody families, both households are required to submit a complete Financial Aid application.
Priority consideration for financial aid is given in this order:
returning families currently receiving financial aid,

returning families whose situation has changed and are now requesting financial aid,

new families requesting financial aid
The Financial Aid Process:
For the 23/24 school year, financial aid applications are now being reviewed on a rolling basis.  Thanks to recent donations from our community, our available funds have tripled from prior years. 

For the 24/25 school year, the application window will open on October 1, 2023. Families applying by December 2023 will have priority consideration. Applications submitted later will be reviewed on a rolling basis and grants awarded based on availability of funds.
All families applying for financial aid will fill out the 

FACTS application

. This is a third party application where families will be asked to submit their financial information. You will be asked about income, assets, and debt, along with other family and financial information.
Once the application is complete and all supporting document is submitted, all families will be contacted to schedule and complete a required, in-person financial aid interview with our Finance Office.

All families must complete the FACTS application, interview, and submit all supporting documentation (tax returns, W-2s, etc) by the deadlines or financial assistance will not be considered.
Please note: you must complete the student application process to be considered for aid.
For more information about financial aid, or if you have questions about the process, please contact Admissions Directors Dorrie Sieburg or Elizabeth Douglas.
French Broad River Academy also participates in North Carolina's Opportunity Scholarship and Disability Grant programs, both managed by North Carolina State Education Assistance. Visit their site for more information and to start an application.