More About French Broad River Academy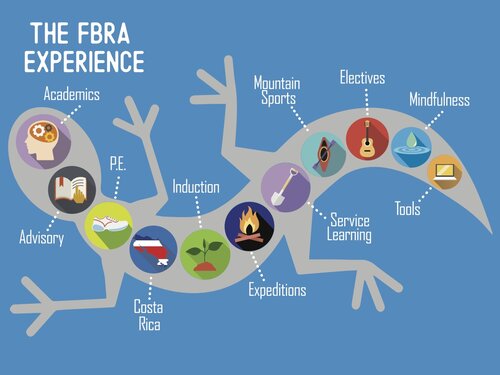 French Broad River Academy is a split-gender, independent middle school (grades 6-8) in Asheville, North Carolina that offers a competitive academic program in tandem with outdoor education and leadership opportunities. We have two campuses nestled in the heart of Western North Carolina that take full advantage of the region's plentiful whitewater rivers, lush mountains, and vast public lands for outdoor experiential learning. International travel, service learning, character development, and leadership are additional key components of the FBRA experience.
Our Mission
Our mission is to build character and integrity for a lifetime of learning, service, and leadership. As a mission driven organization, every detail of the programming supports our commitment to building character and integrity. Our alumni and teachers are intrinsically motivated lifelong learners, find fulfillment through service, and take the lead in making the world a better place.
FBRA accomplishes its mission by intentionally placing students in uncomfortable settings where the perceived risk might be high, but the actual risk is relatively low and manageable for our staff. FBRA has the flexibility and resources to create authentic opportunities for failure both in and outside of the traditional classroom setting.
The result of the FBRA experience is young people who are mature, confident, respectful, grounded, and upstanding, who are comfortable speaking in public, at ease in leadership positions, and happy working independently or with others. Involved in their communities, FBRA students display integrity and awareness, and become ready not just to succeed in the world, but poised to actively and positively contribute to it.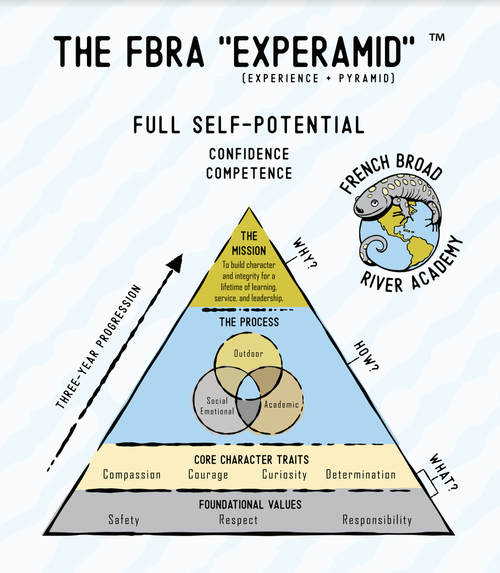 The Experamid illustrates the program's purpose and how we approach education.
Safety: Authentic education involves real risk, so our foremost concern is maintaining physical and emotional safety. We teach our students to assess and manage risk so that they can make healthy choices for the rest of their lives.
Respect: We treat ourselves and others with dignity. We honor the learning environment.
Responsibility: We own up to our mistakes, take accountability for our actions, and practice habits that help us and our community succeed.
Courage: We commit to being comfortable in the uncomfortable. We take appropriate risks in order to learn.
Compassion: We cultivate and act on empathy for ourselves and others. We show concern for all life forms.
Determination: We lean into hard things. We use the gift of failure as an opportunity to learn.
Curiosity: We keep wondering, creating, and questioning. We listen to others with an open mind. 
The Process: Because all of our full time staff are classroom teachers, outdoor educators, international trip leaders, and student mentors, we seamlessly weave together our academic, outdoor, and social emotional programming. Meet Our Staff
Academic: Our passionate teachers and experiential approach instill in students an intrinsic love of learning. All students enter high school with advanced skills in core subjects and the scholarly habits for success in higher education. More about Academics
Outdoor: Students develop a deep connection to the French Broad watershed through weekly field lessons and overnight adventure. Commitments to character and integrity become real when using technical skills in an expeditionary team and serving our community. More about Outdoor Program
Social Emotional Learning: Teamwork, communication, and reflection catalyze each student's journey to discover who they are and practice responsible citizenship. More About Social Emotional Learning
TOTAL STUDENT ENROLLMENT: 144
Boys Program: 72
Girls Program: 72
TOTAL STAFF: 32
STUDENT TO TEACHER RATIO:
12:1 in Classroom
6:1 in Field
SCHOOL HOURS:
Morning Drop Off: 8:20 - 8:40
Afternoon Pick Up: 3:30
After-School Supervision, Mondays - Thursdays until 5:30
TRANSPORTATION? Morning and afternoon bus service from South Asheville
EXTRACURRICULARS OFFERED: Kayaking, Mountain Biking, Rock Climbing, School Play, MathCounts, Science Olympiad, Skiing, Chess
SUMMER PROGRAMS OFFERED: Kayaking, Mountain Biking, Rock Climbing, Backpacking
ACCREDITATION:  Accredited by the Association of Experiential Education since 2013. Accreditation by the AEE means that FBRA meets the highest standards for safety, risk management, instructor training, and programming in the field of outdoor adventure education.
YEAR FOUNDED: 2009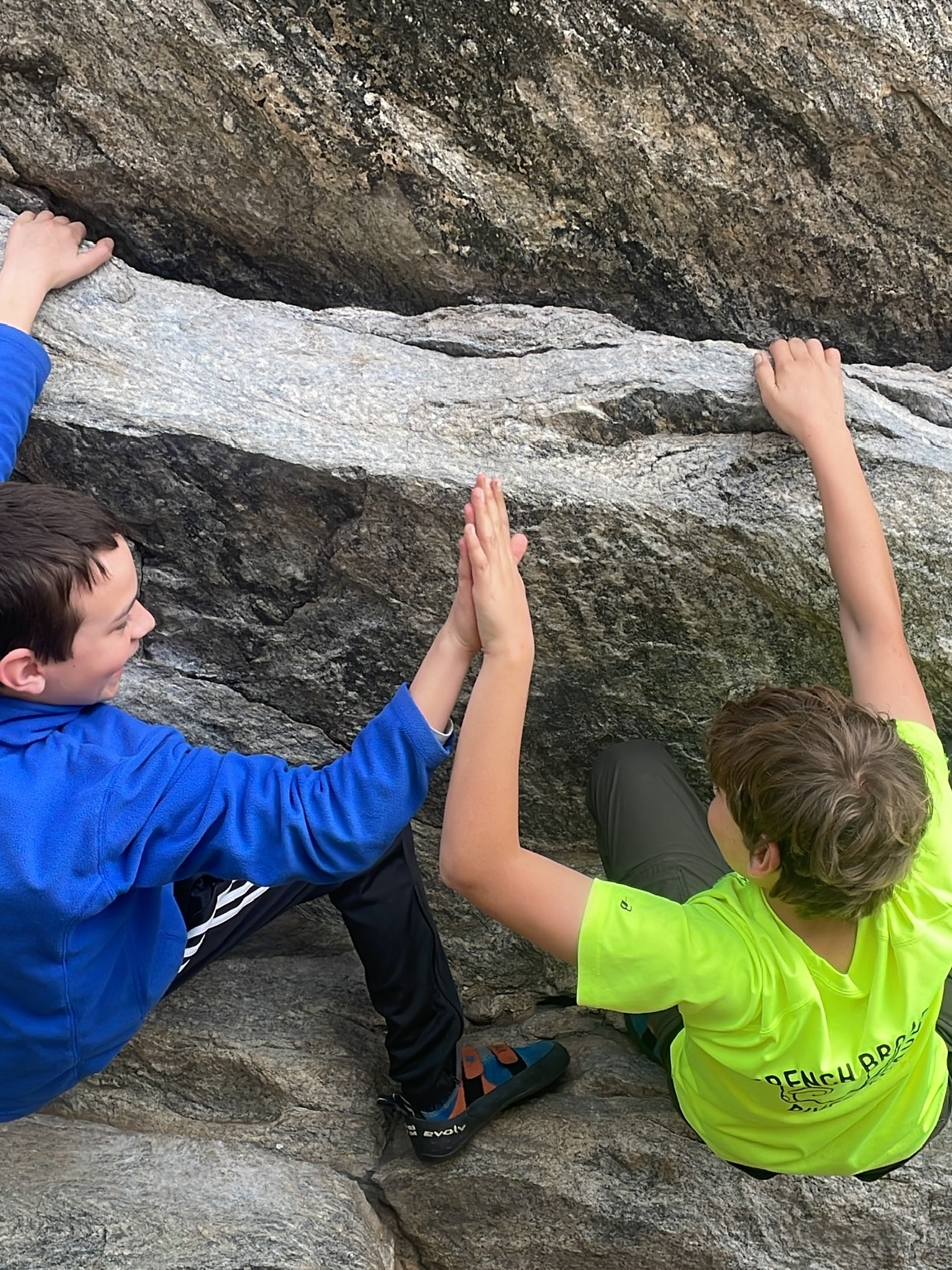 SHARED VALUES: The FBRA board, administration and employees articulate and model shared values.  Some of these include: compassion, effective communication, commitment to service, cultural competency, embracing challenges, resilience, perseverance, and student empowerment. Staff perform a wide variety of roles and are committed to the continuous improvement of every aspect of the FBRA program.  School leaders seek regular feedback from students, staff and parents.

COMMON FOCUS: Staff and students are focused on the FBRA mission and vision, as well as a long-term strategic plan.  Time, tools, materials, instruction, and professional development are aligned in the classroom, in the field, and in the community.

HIGH EXPECTATIONS: Staff members are dedicated to helping students achieve state and national standards.  Students are engaged in an ambitious and rigorous course of study.  Students are expected to embrace challenges both inside and outside the classroom.  Staff and students embrace risk and failure as necessary tools for growth and success.  Failure legitimizes success.

EQUITY, DIVERSITY, AND INCLUSION (EDI): FBRA is accountable to the larger community and will continue to partner with individuals and organizations outside the school to fulfill its mission.  FBRA is an institution that shapes leaders who are prepared for a diverse world. A culture of inclusion, empowerment, equity, and justice is essential to all of the school's endeavors. Central to this are the abilities of our students to identify, analyze, and act on issues of equity, justice, and inclusion.

PERSONALIZED: The academy has a 12:1 student teacher ratio.  The school is designed to promote sustained student relationships with staff through shared experiences.  FBRA is committed to direct and meaningful communication among students, staff, and parents.

PERFORMANCE ACCOUNTABILITY: FBRA establishes clear expectations and accountability to students and staff.  Grade level standards and standards-based assessments guide teaching and learning.  Schools publish student progress to parents and the community.

RESPECT AND RESPONSIBILITY: The culture and environment is safe, structured, and ethical. The staff teaches, models, and expects responsible and respectful behavior that are aligned with the FBRA values of character and integrity.  Relationships are based on mutual respect and trust.

EFFECTIVE GOVERNANCE: FBRA is a 501c3 nonprofit organization governed by an elected board of directors.  Roles and responsibilities are clearly communicated for the board, administration, department heads, and staff.

COLLABORATION: Staff collaborate to develop and implement programming that fulfills our mission and vision.   FBRA is committed to our community and continually works to establish and sustain strong relationships.

TECHNOLOGY: Technology assists in improved communication, collaboration, and efficiency between students, staff, and parents.  Every staff member and student has access to technology.  Students are taught appropriate use and technological literacy.  Staff are supported in finding resources to augment classes and curriculum.

ENVIRONMENTAL STEWARDSHIP: FBRA teaches environmental stewardship by bringing our students into new places and increasing awareness of our impacts upon the space around us.  An important aspect of this is establishing meaningful connections to the French Broad River watershed, with the goal that our students will become long-term advocates for the world around them.  FBRA is committed to researching and implementing practices that are sustainable for the environment while supporting our program.